Pithoragarh district Is The Easternmost Himalayan District In The State Of Uttarakhand, India. It Is Naturally Landscaped With High Himalayan Mountains, Snow Capped Peaks, Passes, Valleys, Alpine Meadows, Forests, Waterfalls, Perennial Rivers, Glaciers And Springs. The Flora And Fauna Of This Area Has Rich Ecological Diversity. The Geographical Area Of The District Is 7,100 Km2 (2,700 Sq Mi).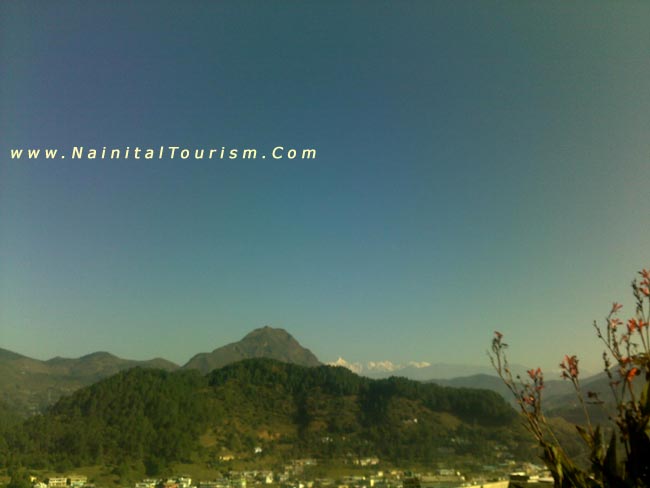 Pithoragarh Town, Which Is Located In Soar Or Soar Valley, Is Also Its Headquarter. The District Is The Part Of Kumaon Region Of Uttarakhand State And Which Is Also One Of Its Administrative Division. Pithoragarh Has Many Temples And Ruined Forts Reminiscent Of The Once Flourishing Reign Of The Chand Kings. There Is Tibet Plateau Situated To The North Of The District. Nepal Lies On The Eastern Borders. The River Kali Originates From Kalapaani, Forms Its Continuous Eastern Boundary With Nepal. It Is An Indian Border District With China. The Hindu Pilgrimage Route For Mount Kailash-Lake Manasarovar Passes Through This District Via Lipu-Lekh Pass In The Greater Himalayas. The District Is Administratively Divided Into Five Tehsils, Namely Munsiyari, Dharchula, Didihat, Gangolihat, And Pithoragarh. Naini Saini Is The Nearest Civil Airport.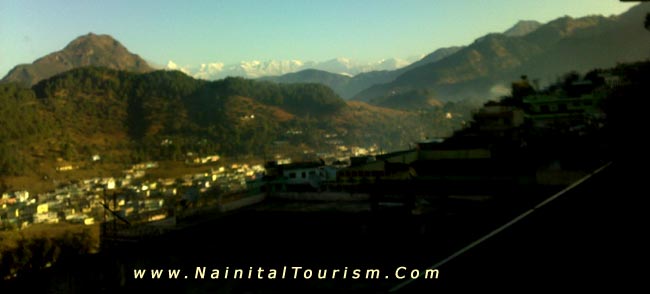 The Mineral Deposits Present In The District Are Magnesium Ore, Copper Ore, Limestones And Slate Stone.

Origin Of The Name - Pithoragarh

The Origin Of The Name Pithoragarh Are Foggy And There Are A Number Of Stories On The Same. While Some Attribute The Name To The King Pithora Chand From The Chand Dynasty, Stories On The City Getting Its Name From Prithvi Raj Chauhan By The Chauhan Rajputs Are Also The Part Of Folklore.

Brief History Of Pithoragarh

Pals (Katyuri Kings) After Its Conquest By The Rajwar Of Uku (now In Nepal) Bhartpal In The Year 1364, Pithoragarh Was For The Whole Of The Remaining 14th Century By The Three Generation Of Pals And The Kingdom Extended From Pithoragarh To Askot.

Bam Dynasty A Village Of Pithoragarh District According To A Tamrapatra Dating Back To 1420 A.D The Pal Dynasty, Based Out Of Askot, Was Uprooted By Chand Kings. Vijay Brahm Of Brahm Dynasty From Doti Took Over The Empire As A King. Subsequently Following The Death Of Gyan Chand In A Conflict With Kshetra Pal, The Pals Were Able To Regain The Throne. It Is Believed That Bhartichand, An Ancestor Of Gyan Chand, Had Replaced Bams,

Chand Dynasty The Ruler Of Pithoragarh, After Defeating Them In 1445. In 16th Century The Chand Dynasty Again Took Control Over Pithoragarh Town And In 1790 Built A New Fort On The Hill Where The Present Girls Inter College Is Situated. This Fort Was Destroyed By Today's Indian Government In Year 1962 After China Attacked India The Chand Rule At Its Zenith Is Seen As One Of The Most Prominent Empires In Kumaoun. Their Rule Also Coincides With The Period Of A Cultural Resurgence. Archeological Surveys Point Towards The Develoopment Of Culture And Art Forms In This Period The Present King Of Kumaon Is Mahendra Chand Of Lamakhet (Pithoragarh), He Is Married To Gita Chand Of Rina And Has Three Children (Aakanksha Chand, Mallika Chand, Aryan Chand)

British Rule

Subsequently Under British Domination, Pithoragarh Remained A Tehsil Under Almora District Until 1960 When It Was Elevated To A District. Under The British There Was An Army Cantonment, Church, Mission School. Christianity Was Developed In This Region. British Rule Come After 1815 When British Stopped The Annexing Of Further Land By Nepal And Nepal Has To Sign A Treaty Called As Sugoli Treaty Under This Treaty Nepal Has To Give Till Himanchal To India And This How Pithoragarh Also Fall Under British India And When British Left India There Was No Such Claws That Pithoragarh Should Be Part Of India Or Not But Still It Is Part Of India During British Time They Recruited Heavily The Local People To Army To Serve Their Imperial Requirement And Hence The Development Of Pithoragarh Was Badly Ruined Because This Was Big Brain Drain For Pithoragarh.

Pithoragarh District Was Previously The Part Of Almora district Of Uttarakhand. Pithoragarh Was Created As A Separate District In 1960. In 1997 A New District Of Champawat Was Carved Out By Reorganizing Its Boundaries.

Climate - Weather Pithoragarh
Pithoragarh Town, Being In The Valley, Is Relatively Warm During Summer And Cool During Winters. During The Coldest Months Of December - January, The Tropical And Temperate Mountain Ridges And High Locations Receive Snowfall And Has An Average Monthly Temperature Ranging Between 5.5 °C and 8 °C. Pithoragarh District Have Extreme Variation In Temperature Due To Much Altitude Gradient. The Temperature Starts Rising From Mid March Until Mid June. The Areas Situated Above 3,500 M Remain In A Permanent Snow Cover. Regions Lying Between 3,000 To 3,500 M Become Snow Bound For Four To Six Months. There Are Extreme Points Present At The Different Places Like The River Gorges At Dharchula, Jhulaghat, Ghat And Sera, Where Sometimes Temperatures Rise Up To 40 °C. The Annual Average Rainfall Is 36.7 Cm. After June The District Receives Monsoon Showers. Winter Set For Transhumance - Seasonal Migration Among The Bhotiya Tribe With Their Herds Of Livestocks To Lower Warmer Areas.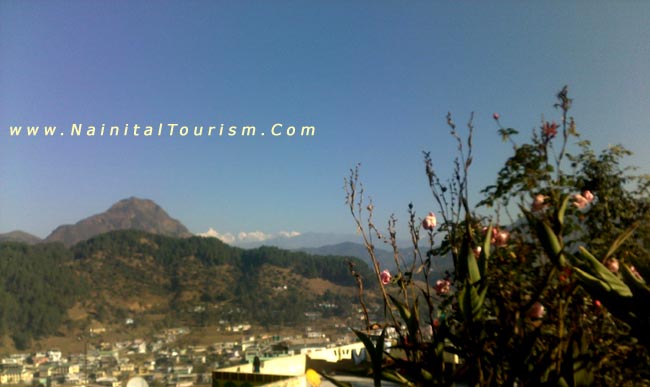 Seasons Of Pithoragarh

Winter Or Cold Weather (December - March)

Summer Or Hot Weather (March - June)

Season Of General Rains (North - West Monsoon-Mid June To Mid September)

Season Of Retreating Monsoon (September To November)


Glaciers Of Pithoragarh

Locally Glaciers Are Known As Gal. Some Important Glaciers Of The Districts Are As Follows: Milam Glacier, Namik Glacier, Ralam Glacier, Meola Glacier, Sona Glacier, Panchchuli Glacier, Balati Glacier, Shipu Glacier, Rula Glacier, Kalabaland Glacier, Lawan Glacier, Bamlas Glacier, Baldimga Glacier, Terahar Glacier, Poting Glacier, Talkot Glacier, Sankalpa Glacier, Lassar Glacier, Dhauli Glacier, Baling Golfu Glacier, Dhauli Glacier, Sobla Tejam Glacier, Kali Glacier, Kuti Glacier, Yangti Basin Glacier.


Tourist Places Pithoragarh | Places Of Interest Near Pithoragarh | Places Around Pithoragarh | Pithoragarh Sightseeing | Visiting Places In Pithoragarh | Pithoragarh Tourist Places |

Skiing Ranges In Pithoragarh

Khalia Top High Altitude Meadow With Gentle Slope, Located 7 Km From Munsiyari.

Betuli Dhar It Is One Of The Best Ski Range Of Pithoragarh. It Is A High Altitude Alpine Meadow With Ideal Slopes And Is Situated At A Distance Of 5 Km From Munsiyari.

Chhiplakot Situated At An Altitude Of 3090 M Near Baram On Jauljibi-Munsiyari Road. This Place Provides An Ideal Skiing Settings.

Lakes In Pithoragarh

Parvati Sarovar; Anchari Tal; Jolingkong Lake; Chhiplakot Lake; Maheshwari Kund; Thamri Kund

How To Reach Pithoragarh

By Road

Tanakpur-Pithoragarh And Haldwani-Pithoragarh Mettled Roads With Buses, Jeep And Other Light Vehicles Regularly In Service Everyday.

Pithoragarh District Map Route Map Pithoragarh - How To Reach Pithoragarh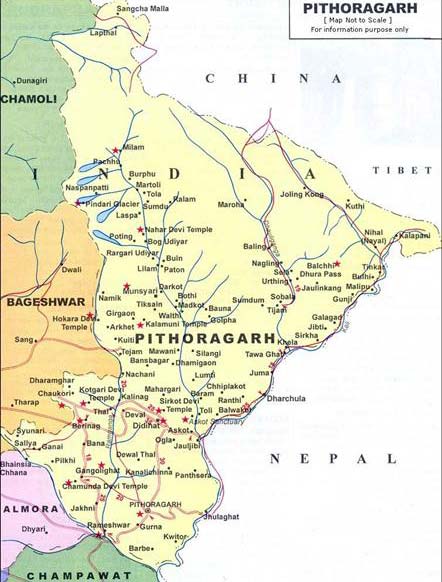 Pithoragarh Road Distance

| | |
| --- | --- |
| Agra Via Kasganj | 492 Km |
| Almora Via Daniya | 120 Km |
| Bareilly Via Tanakpur | 251 Km |
| Dehradun Via Tanakpur | 538 Km |
| Delhi Via Tanakpur | 503 Km |
| Gwaldam Via Berinag | 206 Km |
| Haldwani Via Almora | 218 Km |
| Moradabad Via Khatima | 329 Km |
| Nainital Via Almora | 188 Km |
| Pilibhit Via Tanakpur | 215 Km |

By Railway

Nearest Railway Terminals Are : Tanakpur In Champawat District Connected With Pithoragarh By 151 Km Long Motor Route Via Champawat And Lohaghat.

Kathgodam in Nainital District Connected With Pithoragarh By 212 Kilometers Long Motor Route Via Bhowali, Almora, Daniya And Rameshwar.

By Air

Local Airport Situated At Naini Saini Airport Pithoragarh some 5 Km Away From Pithoragarh Town.

Nearest Commencing Airport Is Pant Nagar in Udham Singh Nagar District.