NAKUCHIATAL :- (1218 MT) At A Distance Of Just 24 km From Nainital And About 4 kms From BhimTal - Lies The Mystique Lake With 9 corners Or Or The ' Nine - Cornered - Lake '. Surrounded By Dense Forested Hills On All Sides It Provides Solace From The Maddening Rush Of The Plains.
Naukuchiatal Video

Naukuchiatal Is Nourished By An Underwater Spring, Which Keeps Its Water Levels High. Naukuchiatal Lake is The deepest lake In The Lake District Of India (Nainital) And Lost In Acres Of Oak Forest In The Lesser Himalayas.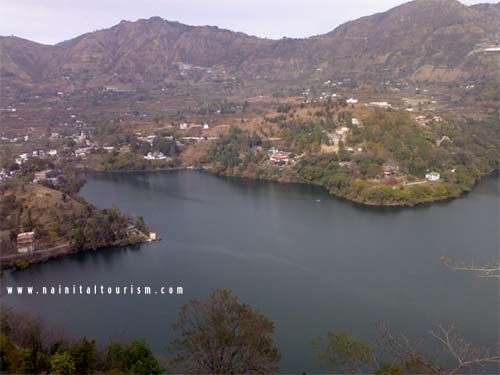 Naukuchiatal Is Perhaps The Most Picturesque Lake In Uttarakhand, Surrounded By Green Slopes And Oak Forests. Naukuchiatal Is Fed By An Underwater Spring.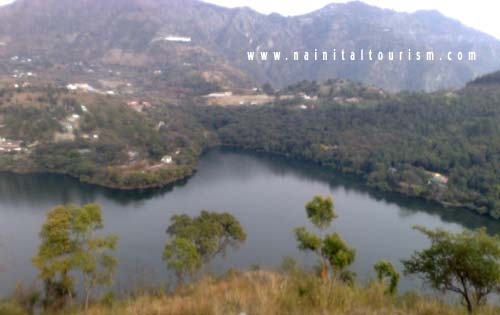 A Myth About Naukuchiatal: It Is Believed By The Locals That Whoever Sees All The Nine Corners Of The Lake At One Shot, Attains Nirvana. Pretty Views Of Terraced Fields And Meadows Make This Lake Destination An Enjoyable Stopover.

Although The Lake Is The Prime Attraction In Naukuchiatal, There Are More Activities In Naukuchiatal For Tourists Such As Angling, Camping, Trekking, Bird Watching and Para Gliding - ParaSailing.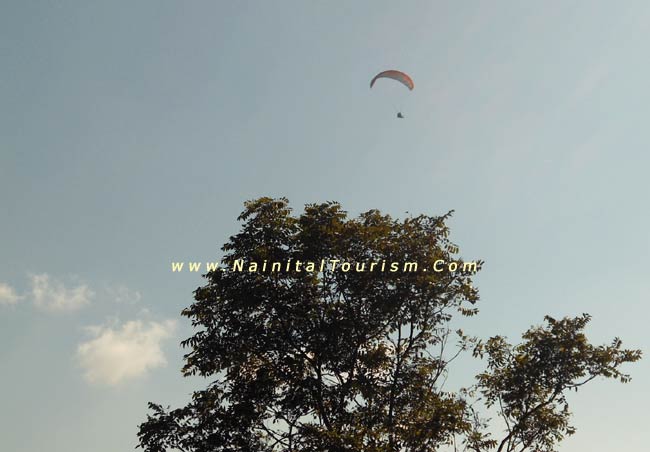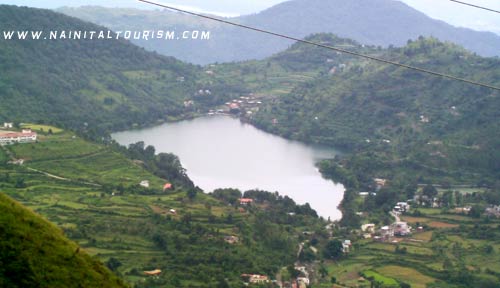 Places Around Naukuchiatal | Naukuchiatal Sightseeing | Visiting Places In Naukuchiatal | Naukuchiatal Tourist Places |

Nainital - Bhimtal - Sattal - Jim Corbett National Park - Mukteshwar - For Details See Top Left

The Pristine Lake With Its Green Surroundings Is The Highlight Of Naukuchiatal. A Beautiful Tree-lined Path Runs Along The Length Of The Lake And Is The Ideal Place To Soak In The Natural Beauty.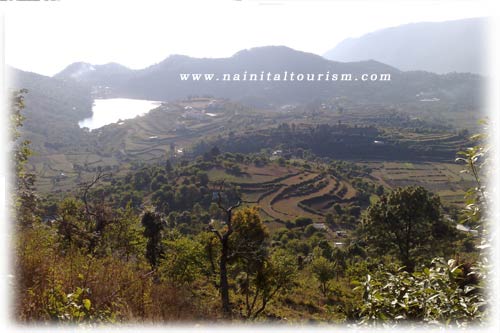 Naukuchiatal Weather - Climate Of Naukuchiatal

Naukuchiatal Enjoys A Pleasant Weather Conditions Which Remain Throughout The Year As The Climate Is Pleasant And Perfect For Sight Seeing And Nature Walks.

Summers March To May Temperatures Ranges From 20° C To 28°c. Summers Offers Majestic Sceneries With The Trees Heavy With Fruits.

Monsoon Or Rainy Months July, August And September. And At The Best Greeneries During Monsoons.

Winters are Cold With Temperature Varies Between 18°C To A Low 1°C. Heavy Snowfalls Occur During Winters.



Best Time To Visit Naukuchiatal

Best Time Is All Through The Year, May Avoid Heavy Rainy Season July To Mid September.

What To Wear :- : For Summer Light Woolens Are Required But For Winter Heavy Woolens Are Necessary.

Naukuchiatal Distance Chart
Delhi To Naukuchiatal – 320 Kms
Kathgodam To Naukuchiatal - 35 Kms
Binsar To Naukuchiatal – 97 Kms
Haldwani To Naukuchiatal – 41 Kms
Nainital To Naukuchiatal – 24 Kms
Bhimtal To Naukuchiatal – 04 Kms
Jim Corbett National Park To Naukuchiatal – 100 Kms
Ranikhet To Naukuchiatal – 86 Kms
Bareilly To Naukuchiatal – 168 Kms
Sattal To Naukuchiatal – 30 Kms
Distance From Various Travel Destinations To Naukuchiatal In Uttarakhand. Distance Chart From Delhi Haldwani Kathgodam Nainital Bhimtal Binsar Sattal To Naukuchiatal Uttarakhand

Distance Between Mumbai To Naukuchiatal - 1565 Kms
Distance Between Pune To Naukuchiatal - 1600 Kms
Distance Between Kolkata To Naukuchiatal - 1408 Kms
Distance Between Delhi To Naukuchiatal - 320 Kms
Distance Between Kathgodam To Naukuchiatal - 35 Kms
Distance Between Bhimtal To Naukuchiatal - 4 Kms
Distance Between Binsar And Naukuchiatal - 90 Kms
Distance Between Nainital And Naukuchiatal - 52 Kms
Distance Between Jim Corbett National Park And Naukuchiatal - 100 Kms

How To Reach Naukuchiatal

How To Reach Naukuchiatal By Air :-

The Nearest Airport At Pantnagar 45 Km Which Is Un Operational. During The Summer Regular Flights Are Operational. The Closest International/National Airport Is New Delhi's Indira Gandhi International Airport - Palam Airport. 320 Km Away From Naukuchiatal

How To Reach Naukuchiatal By Rail :-

Take Your Train From Old Delhi Railway Station Or From Nizamuddin. Nearest Railway Station Is At Kathgodam. Kathgodam Railway Station Is About 35 Km Away From Naukuchiatal City. The Distance From The Railway Station To Naukuchiatal Can Be Covered In Nearly 65 - 75 Mins.

Ranikhet Express Is The Best Option From Delhi If You Wish To Travel By Train. Days Of Run: All 7 Days Class Available: 1A/C, 2A/C, 3A/C And Sleeper.
STATION NAME (FROM-TO)

DEP. TIME

ARV. TIME

TRAINS NAME AND CLASS
DELHI - KATHGODAM

2245 HRS
0600 HRS

0445 HRS.
2040 HRS.

RANIKHET EXPRESS
1A, 2A, SL,II
AGRA FORT - LAL KUAN

2200 HRS
0835 HRS

0615 HRS
1910 HRS

KUMAON EXPRESS
2A, SL, II
LUCKNOW - LAL KUAN

2110 HRS
0625 HRS

0605 HRS
2050 HRS

Nainital EXPRESS
2A, SL, II
HOWRAH - KATHGODAM

2145 HRS
0845 HRS

1155 HRS
1930 HRS

BAGH EXPRESS
2A, SL, II

SHATABDI EXPRESS:- Runs Between New Delhi-Kathgodam-New Delhi Twice A Week (Friday & Sunday) During Summer Vacations.

NOTE:- For Precise Details Of Dates, Timings And Fares Of All The Above Trains, We Request You To Kindly Confirm With The Indian Railways Before Making Reservations.

From Kathgodam The Drive To Naukuchiatal Takes Approx One Hour And From Lal Kuan The Drive To Nainital Is Approx 85-95 Minutes.

Kindly Note :- Though Time Varies To Reach Naukuchiatal As It Depends On The Traffic, Time Of The Journey (morning Daytime Or Evening) And The Mode Of Transportation.

Naukuchiatal By Road From Nearest Railhead
Kathgodam (via Almora)
35 Kms
Lalkuan (via Almora)
55 Kms
Nearest Railway Station To Naukuchiatal -

How To Reach Naukuchiatal By Bus :-

Naukuchiatal Is Well Connected By State Owned Bus Services. Bus Services Connect Naukuchiatal To Other Hill Stations Like Almora, Ranikhet, Nainital And Pithoragarh. Many Overnight Buses Owned By Private Companies Ply Between New Delhi And Mukteshwar. Take The Correct Bus From I.S.B.T. It Is A 10 Hour Journey Which Connects The Route Including Other Hill Resorts Ranikhet, Almora, Gwaldam, Pittoragarh And Nanital. Kindly Note : Private Bus Service Mostly Operate During The Season Period.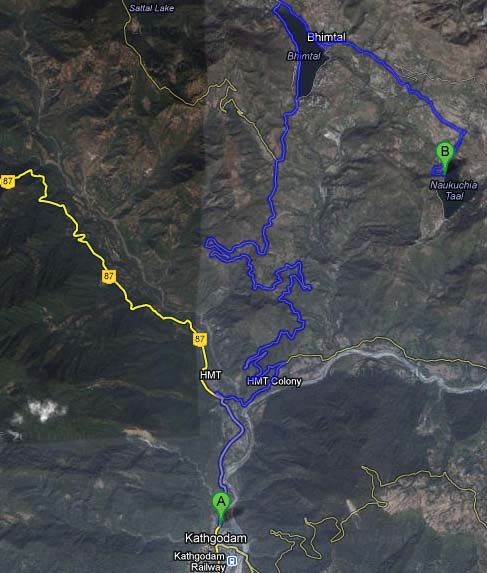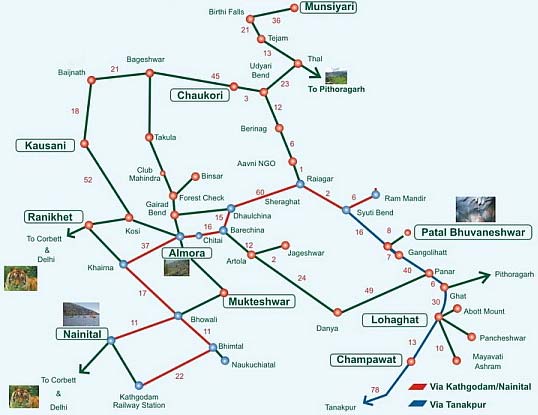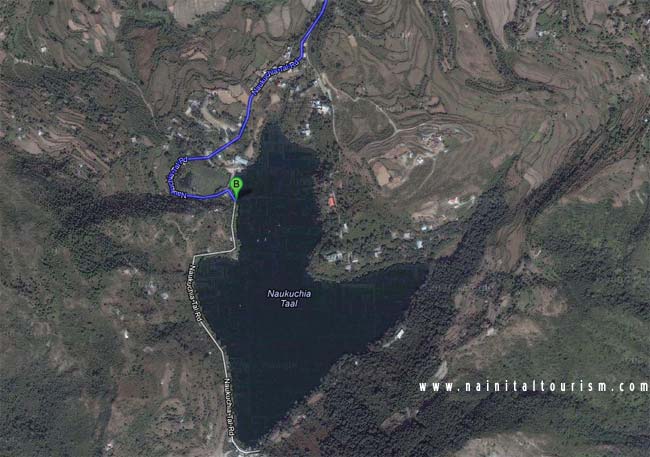 You Can Visit Naukuchiatal By Taxi Or By Tours & Travel Packages.

Nainital Tourism offers Transport & Online Booking Luxury - Deluxe And Budget From 30 + VariousHotels & Resorts in In Naukuchiatal.

Naukuchiatal Hotel Booking Or Package Related Enquiry Contact Here

Or Talk To Us at 09536-1182-78 or 09027-1555-78

Office Landline Number: 05942- 237476 (10.30 Am - 6 Pm)